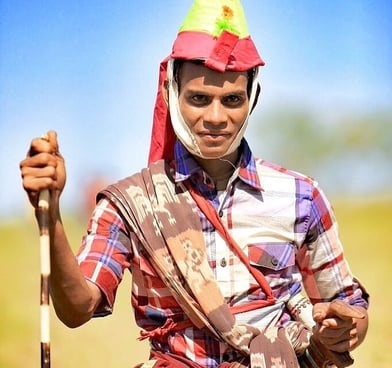 Coffee is one of the primary means of livelihood for the people of Flores Manggarai in East Nusa Tenggara. With cool and dry air of 17-28 c and 74-92% humidity and 12ooo masl, the microclimate provides an excellent cultivation ground for the coffee plants.
Generations of farmers have perfected the cultivation, harvest and processing. Now the farmers have applied the principles of Good Manufacturing Practices (GMP).
Flores Manggarai Arabica coffee plantations have never been fertilized, using natural resources the farmers cultivate the plants to produce pesticide free beans.
Species: Arabica Specialty
Varietal: Juria (Typica)
Region: Ulu Wae
Altitude: 1300-1400masl
Processing: Fully washed
Harvest: April-July (Every 2-3 years )
Farm size: 133 ha
Notes: Chocolate, Coconut Sugar, Nutty, Lime
The pride of coffee farmers of Flores Manggarai, Jurria can only be harvested every 2-3 years from trees that were planted in the 1950s. The trees are now 5-6 meters high, which takes special skills for cherry picking. Jurria is one of the Champion Coffee of Indonesia or JUARA
Species: Arabica Specialty
Varietal: Yellow Caturra
Region: Rende Nao
Altitude: 1400masl
Processing: Fully washed
Harvest: April-July
Farm size: 80,5 ha
Notes: Ginger, Warm Spices, Nutty, Caramel, Lemon
Species: Arabica Specialty
Varietal: Linie S-795
Region: Urung Dora
Altitude: 1200masl
Processing: Fully washed
Harvest: April-July
Farm size: 42,5 ha
Notes: Milk chocolate, Pineapple, Honey, Green Apple, Floral
Species: Canephora-- Fine Robusta
Varietal: BP 920
Region: Wae Ri'i
Altitude: 1100-1200masl
Processing: Fully washed
Harvest: August-October
Notes: Black tea, Nutty, Hazelnut, Dark Chocolate
Species: Arabica Specialty
Varietal: Linie S-795
Region: Satar Lenda, Wae Rebo
Altitude: 1200masl
Processing: Fully washed
Harvest: April-July
Farm size: 200 ha
Notes: Hazelnut, Caramel, Tomato, Orange